The kitchen is the central hub of many homes. Here is not only where food is made, but also where families catch up after a long day. If your kitchen is the heart of activity then you also want to make sure is remains odour free and a pleasant environment to talk in. This is especially true if you have a kitchen-diner setup.

However for those that are passionate cooks keeping the area in which you cook smoke and odour free can be tricky. You shouldn't have to compromise on searing your steaks if your cooker hood is not up to the job of extracting the smoke that quickly builds as you achieve that desired exterior to your meat.

While it may seem like a cooker hood is largely ornamental, its roll in home cooking is just as defined as a Hob or Oven. As such getting the best cooker hood isn't just about matching your interior theme, but also about function. NEFF is a brand that is renowned for creating cooking appliances that are perfect for those that love cooking at home.

One model that particularly encapsulates this is the D94BHM1N0B Hood. This cooker hood not only blends classic and contemporary styling but also outstanding performance as well. Here in this review the team at South Coast Appliances run through everything you need to know before buying this model for your kitchen.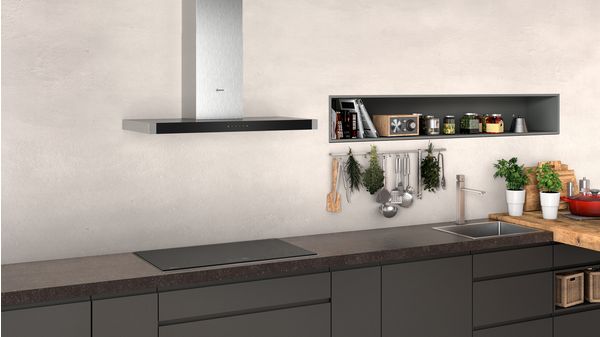 Flexible, Efficient Extraction

Deceptively quiet at just 60bB, the fact you can still hold conversations whilst this model is running may give the impression that performance is compromised. However, this is certainly not the case. With three distinct levels of extraction, the D94BHM1N0B can even be taken to an extra level when needed, with the dedicated boost function. This handy model is perfect for when you are preparing dishes that give off extra fumes or odours, like when cooking with a wok.

With an extraction rate of 360 cubic metres of air per hour, this model is well suited for all but the largest kitchens. The D94BHM1N0B can be configured in both ducted or recirculating, so regardless of your kitchens location or current set up this NEFF hood is ideal for your home.

As if removing fumes wasn't enough there is also a CleanAir filter that removes up to 95% off all cooking odours. This means one you are done eating the smells from cooking never linger, or have the chance to embed in your clothing.

Controlling the flow of extraction is also intuitive and simple to do. NEFF's TouchControl panel also allows you to turn on the energy-efficient LED lights, allowing you to perfectly see what you are cooking regardless of how bright your kitchen is.
To find out more about the NEFF D94BHM1N0B Hood contact us at South Coast Appliances, with flexible delivery options in the Hampshire area. Call us today on 023 92502585, or if you wish to find out more about the D94BHM1N0B Hob visit our website for more information.