Passionate cooks create delicious meals, however, the end product of an afternoon in the kitchen is not always so positive. When cooking the dreaded washing up with

Delivering a modern take on the classic cooker hood design, the NEFF D62QBC0N0B Chimney Cooker Hood integrates into almost any kitchen. Be it contemporary or traditional, this model is sure to fit in, thanks to its stainless steel finish and timeless design. However, looking the part is just one piece of the puzzle. When upgrading your kitchen hood you also need to be assured that it can create fresh cooking space and clear odours quickly.

On first glance, most hoods may seem similar, however, this is simply not the case. Here the team at South Coast Appliances has run through all the key features of the NEFF D62QBC0N0B Cooker Hood, to help you make the best decision for your home.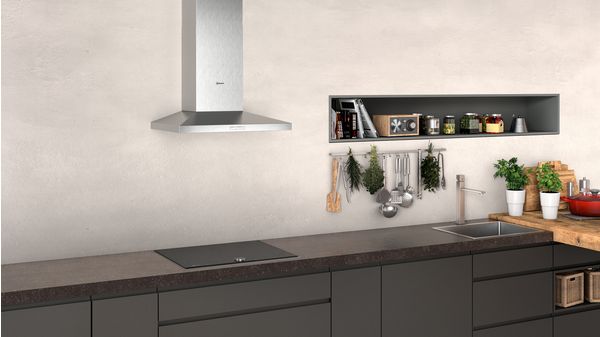 Powerful, Efficient Extraction

A great hood not only performs to the highest standards but is also unobtrusive when running. At just 63dB this NEFF cooker hood is quieter than a conversation, so talking while this model works to freshen up your air is not affected and your mealtimes remain peaceful.

Extraction is done on three distinct levels, allowing you to set the power to get the perfect level of air circulation. The simple push-button system allows quick and easy control of the airflow and allows you to adjust for maximum performance in seconds. Air is filtered of up to 95% of all odours, with NEFF's CleanAir system that ensures odours are never recycled.

The NEFF D62QBC0N0B Chimney Cooker Hood can be configured in with Recirculation if your kitchen has no exhaust. NEFF offers a handy kit to covert your hood and get your air clean again.

With energy-efficient LED lighting your cooking is well illuminated at all times, and once you are done cooking the easily removable grease filters can be taken off and cleaned as easily as possible.
To find out more about the NEFF D62QBC0N0B Hood contact us at South Coast Appliances, with flexible delivery options in the Hampshire area. Call us today on 023 92502585, or if you wish to find out more about the D62QBC0N0B Hob visit our website for more information.