Autumn arriving doesn't just mean shorter days and colder nights. In the run-up to the festive season, it is also the ideal time to hone your skills in the kitchen in time for the big day. Even if you like to avoid the Christmas buzz until December, there can be no denying creating hearty, homemade food is a brilliant way to keep yourself busy at this time of year.

As well as roast dinners you may also want to test your skills at creating a new starter or centrepiece dessert. However, doing this well requires not only culinary flair but also the equipment to match. For those that are passionate about cooking great food needs, an outstanding oven is one of the first things you need.

Created with style and flexibility, the NEFF range of cooking appliances is equipped with some of the most innovative features you'll find in any oven. If you're looking for an under-counter model for your kitchen then the NEFF B4ACF1AN0B single oven could be just what you're looking for.

Packed with intelligent, handy functions this oven is perfect for medium-sized families who value delicious food. Here the team at South Coast Appliances run over the key features and benefits of this latest NEFF model, including the iconic Slide&Hide Door. Perfect if you're looking to replace or upgrade the current model in your home.
Innovative, Flexible Cooking
For many lesser brands, it can be tricky to see what makes their ovens different from the next competitor. With a NEFF oven, you have no such problem, with an innovative cooking function that you will only find on the brand's appliances. The CircoTherm technology is designed to make it easier to cook multiple dishes at once and give consistent results every time.

By channelling the heat from the oven to the back of the cavity, the B4ACF1AN0B can then direct heat at three distinct levels. This then creates a pocket of hot air that envelops the food, giving consistency and never allowing flavours to intermingle. This means cooking multiple courses at once is now made easier, even pungent foods like fish can be cooked together with delicate recipes like blind bake pastry cases.

This unique hot-air system is not only available in an everyday cooking function but also in dedicated modes to deliver a range of finishes. Firstly for cooking in a less intense way, there is CircoTherm Gentle. This uses the same method of directing heat in a focussed way but utilises the residual heat from the cooking to ensure food is never overexposed to drying out or a crust forming.

Then for speciality loaves of bread or even pizzas, there is CircoTherm Intensive. This helps you achieve a perfect crisp finish to your food, by combining two cooking functions at once. Using the CircoTherm technology and Bottom Heat, cooking is prioritised from the base of the oven meaning pizzas are never undercooked or doughy.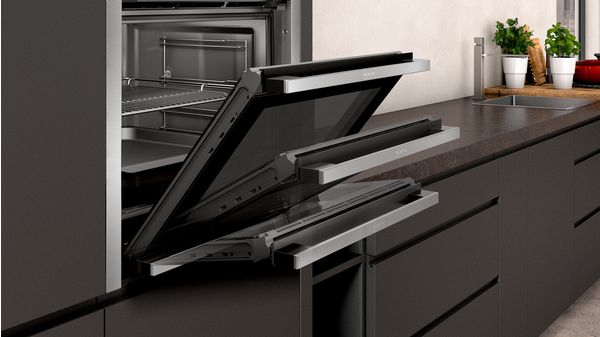 Designed To Make Cooking Simple

With CircoTherm you get a unique cooking feature, however, the innovative features don't stop there. Regular viewers of The Great British Bake Off will see the contestants using NEFF ovens, you can always tell because of the Slide&Hide door. Adding and removing food is even easier with the door out of the way, and your kitchen is safer too.

When it comes to cleaning the B4ACF1AN0B this model is designed from the get-go. The walls of the cavity are coated in a unique ceramic material, which is actually self-cleaning. EcoClean means across weeks of use the amount of grime in your oven rarely has the chance to get dirty, and when it does come time to give it a spring clean dirt comes off easily.
To find out more about the B4ACF1AN0B contact us at South Coast Appliances, and for information on our flexible delivery options in the

Hampshire area

. Call us today on 023 92502585, or
if you wish to find out more about the
B4ACF1AN0B Oven
visit our website for more information.