When looking to upgrade a kitchen or replace an older oven model the plethora of options available may be overwhelming. Now you have more brands and types available at your fingertips how can you decide which oven is best for you?

If you're passionate about food then you need an appliance that is built with you in mind, with the build quality to match amazing features that deliver perfect food every time. NEFF is a brand with a long-established reputation for features that make life for home chefs even simpler and help create amazing dishes.

With their latest model awarded the Which? Best Buy in December 2018, the B3ACE4HN0B Single Oven is a perfect example of the brand's great range of ovens for your home. In this handy review South Coast Appliances run through the key features of this model to help you make the best choice for your next cooking appliance.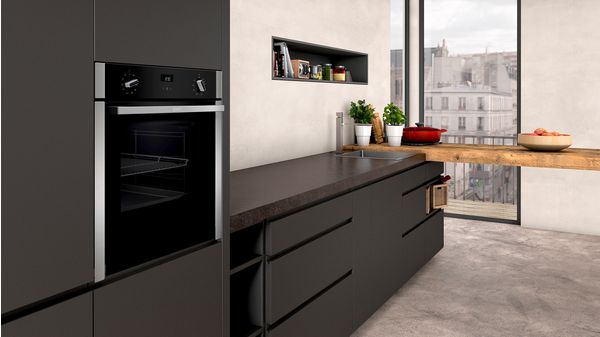 Iconic Design, Flexible Cooking Options
The first thing most will notice about the B3ACE4HN0B oven is the eye-catching feature most associated with NEFF, the Slide&Hide door. Regular viewers of the Great British Bake Off will have noticed contestants entering their latest creations into an oven with this unique function.

With Slide&Hide the oven door elegantly slips under the cavity and is stored out of harm's way, with the rotating handle giving easy one-handed use. This innovative way of opening the oven means that inserting and retrieving dishes is made even easier with no obstructions. Even re-basting meats are done with ease, with the retracted door meaning you can rebaste without the need for fully removing your meal from the cavity.

The design of this oven is not the only way that the B3ACE4HN0B is unmistakenly part of NEFF's line up. When it comes to cooking meals, their CircoTherm system gives a fantastic layer of added flexibility. Created by channelling the oven's hot air to the back of the cavity then directly through channels at different cooking levels, CircoTherm wraps your food in its own envelope of air.

What this means for you are flavours that never intermingle when cooking. You could cook three courses at once and still sustain the desired palate when consuming. In addition, this oven also has two more cooking modes as part of the CircoTherm function. Firstly Intensive, which combines the direct heat of the CircoTherm with Bottom Heat to give a crisp finish. This makes it ideal for blind baking pastry or for perfect homemade pizzas.

For a completely different approach, CircoTherm Gentle is ideal. When cooking lighter dishes such as fish you want to avoid browning or forming any crust. Using a normal cooking mode will mean direct, constant heat which could cause these effects. Using Gentle residual heat is used instead which cooks the meat through completely whilst retaining the delicate texture you need for a perfect meal.
Easy Cleaning

Whilst most newer ovens may provide an option for making cleaning easier, the NEFF B3ACE4HN0B oven has both a cleaning mode and even materials used in the design to reduce the effort in upkeep. The sides of the oven are coated in a unique self-cleaning ceramic coating, this EcoClean material means built-up grime is removed by itself.

For daily cleaning tasks, the EasyClean function gives a more energy-friendly option. Simply adding warm water and a touch of washing up liquid is all you need to get started. This quick and simple way of cleaning means that day to day maintenance is as stress-free as possible.
To find out more about the B3ACE4HN0B Single Oven contact us at South Coast Appliances, with flexible delivery options in the Hampshire area. Call us today on 023 92502585, or if you wish to find out more about the B3ACE4HN0B Single Oven visit our website for more information.