With 10 functions, and finished in gunmetal stainless steel and black glass, the Caple SO110GM Built-in steam oven is an excellent way to bring both style and functionality to your kitchen.

It's filled with a range of useful technologies, designed to help make your life run that bit smoother. No more buttons, just clean, intuitive, full touch control settings that allow both the time and temperature to always be on view and your cooking to stay on track. No more burnt roasts or under-baked cakes!

The oven also boasts an impressive 36-litre capacity, four chrome shelf racks and a steam function, perfect for keeping your food full of nutrients, colour and flavour. For those looking to create meals that are not only healthier but also retain their moisture, ideal for delicate meats like fish, steam is a great innovation that is just as easy to use on the SO110GM as conventional cooking.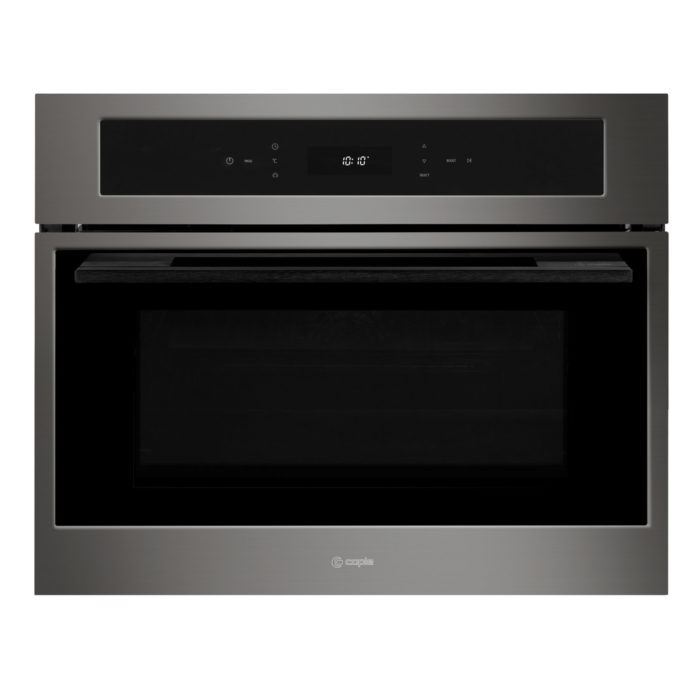 Great Functions
With 10 handy functions, including steam cooking, turbo grill and defrost, the SO110GM is designed to take your cooking to another level.

The steam cooking function injects steam all around the oven cavity, surrounding any food inside to cook it thoroughly and quickly. It's a great way to cook vegetables, but can also be used for preparing fish and meat as well as desserts such as sponge pudding. This function also includes an excellent energy-efficient design that collects water during the cooling process and recycles it to reduce the amount used.

A full touch control electronic timer also helps you keep track of your cooking.
Easy Clean
The Caple SO110GM Steam Oven also comes with a variety of features that make the oven much easier to clean, meaning maintenance and upkeep of this model takes up little of your time.

Automatic Decalcification prevents an unwanted build-up of limescale, perfect for if you live in a hard water area, and the stainless steel interior only needs to be wiped clean.

The removable front glass panel also makes life that bit easier, especially when it comes to cleaning tough grease and grime that inevitably builds up. All you need to do is remove the glass panel from the slider and place it in the dishwasher!
Energy Efficient
The SO110GM also holds an impressive 'A' energy rating, to help provide expert cooking results with minimal energy wasted. Such a high energy efficiency rating will also ensure your bills are kept low while making cooking for all the family simpler.
For passionate foodies, Caple is the perfect brand, coupling outstanding build quality and clever functions, however you still require great customer service and delivery options in Hampshire. At South Coast Appliances you can get the Caple SO110GM Steam Oven with great service and a guaranteed excellent price, click here for more information.