Enjoy soft, perfectly dry fabrics thanks to the Bosch WTN83200GB Tumble Dryer. Featuring an impressive 8kg load capacity, the WTN83200GB is ideal for busy households who go through a lot of laundry on a weekly basis. Clothes are protected and fibres stay soft and in excellent condition.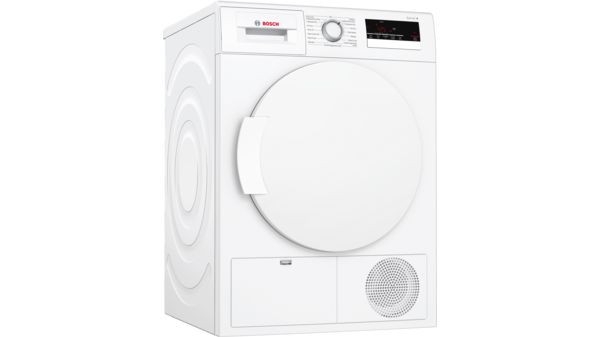 Gentle Drying Helps Clothes Stay Soft
The WTN83200GB delivers superior drying performance, while being extra gentle to fabrics. Its SensitiveDrying system features a unique, fabric friendly drum structure, which protects clothes; while mild warm air is circulated throughout the drum, resulting in soft laundry, without creases.
You'll never have to worry about clothes shrinking again. Bosch's convenient AutoDry function monitors the temperature and moisture levels of the drying load, delivering a precise drying degree. AutoDry knows when your clothes are perfectly dry, protecting them from overheating, over-drying and shrinkage.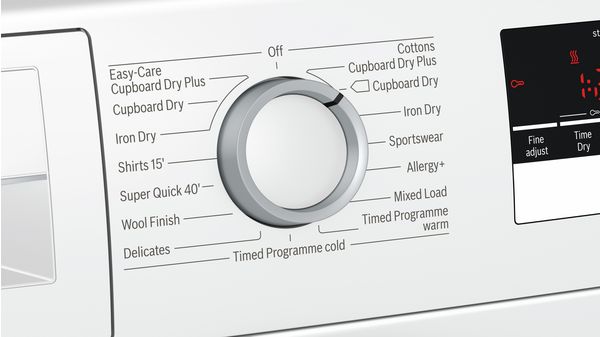 Handy Functions for Efficient Drying
The WTN83200GB comes equipped with a selection of helpful functions and programs, designed to make laundry easier and more efficient. With a user friendly LED display and touch controls, it won't take long for you to get to know your new machine and make the most of its superb features.
With the WTN83200GB, you are in control. The touch display offers a variety of different options for you to adjust the drying cycle to suit your needs. Settings include low heat, reduced ironing and drying length, as well as handy functions such as 24 hour time delay, so you can set your cycle to begin when you want it to.
There is a range of drying programs suitable for different types of fabric. Each program adjusts to your precise laundry needs, with intelligent monitoring of each load. For coats and outdoor clothing, the Outdoor+ Drying program protects outdoor fibres and maintains their integrity While the Sportswear program helps care for coloured fabrics and modern microfibres, with a short spin and low temperatures. Other programs include Woollens, Mixed Load, Timed Program Warm, Timed Program Cold, Shirts 15 and Delicates. There's even an Allergy+ program, great for those family members who suffer from common allergies such as dust as pollen.
If you're always on the go, you'll love the SuperQuick 40' drying program. Great for smaller loads of light fabrics, with high precision temperature setting and monitoring, clothes dry quickly and can be worn straight from the dryer. And for clothes that need a quick refresh, the Shirts 15' program is just the thing. Perfecting the Laundry Process
The laundry process can be long, arduous and seemingly never ending. Not so with the WTN83200GB from Bosch. As well as its array of helpful features and programs, the WTN83200GB is designed to make the laundry routine swifter and much more efficient. Created with Bosch's AntiVibration™ design, the machine is both stable and quiet, even during the spin cycle. You can use your dryer at any time, even during the night, without fear of noise levels disrupting sleepers. Ideal for open plan living, you can easily hold a conversation or watch TV while the drying cycle runs.
For crease resistant drying and clothes that come out soft and in great condition, choose the WTN83200GB from Bosch.
Find amazing deals on Bosch dishwashers from South Coast Appliances in Hampshire. Visit us in store or online to browse our range.