For sparkling glasses and shimmering dishware, the Serie 2 SMV40C30GB Dishwasher from Bosch is undoubtedly one of the best around. A fully integrated 60cm dishwasher that fits beautifully into your kitchen interior for a stylish, sophisticated appeal. Not to mention outstanding cleaning power and efficiency.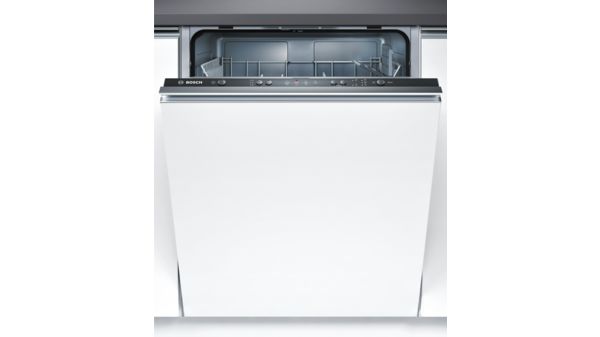 Excellent Cleaning Performance
The SMV40C30GB delivers a strong and powerful cleaning performance. With four programs: Normal 65º, Eco 50º, Quick wash 45º and Pre-Rinse, catering to all your cleaning needs, plus VarioSpeed technology, which offers the same great cleaning results in up to half the time. VarioSpeed is perfect for when you're running out of clean dishes and mealtime is fast approaching. With Bosch, you don't have to compromise on speed or quality when it comes to cleaning.
Your kitchenware will get a thorough clean every time thanks to DosageAssist, ensuring the cleaning tab fully dissolves, thereby maximising its effectiveness.
With delicate glassware, it's often a toss up between running it through the dishwasher, resulting in cloudy, corroded surfaces, or letting the glasses languish in the cupboard because washing them is too much hassle. Not so with the SMV40C30GB. Featuring world class glass protection technology, the SMV40C30GB protects delicate glassware from damage by regulating the hardness of the water. So, your glasses will come out clean and shiny, wash after wash. We think that deserves a toast.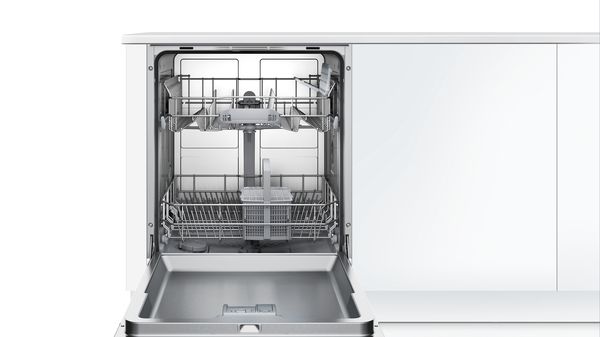 Superior Energy & Resource Management
Awarded an A+ energy rating, the SMV40C30GB intelligently manages energy and water consumption, to help you save money on your bills, as well as helping the planet. Thanks to Bosch's ActiveWater rinsing technology, energy and water usage is reduced, through a combination of targeted water distribution, rapid heating, enhanced filter technology and pump performance, delivering improved water circulation throughout the cycle.
You can reduce your energy usage even further, with the dishwasher's Eco 50º program. With Eco 50º, you'll use less energy and water, while still getting the same superb outcome. The SMV40C30GB comes with a Bosch EcoSilence drive, featuring a brushless motor that reduces friction, with lower noise emissions and powerful, energy efficient performance.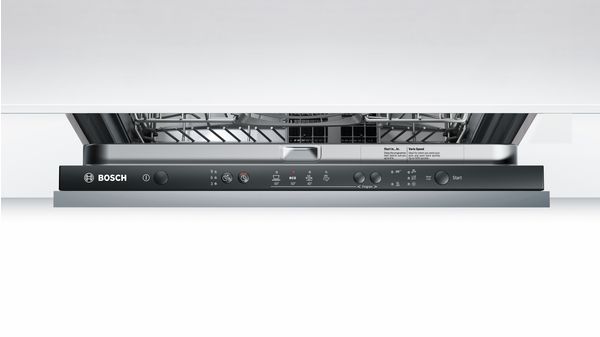 Convenient and Long Lasting
Suitable for handling up to 12 place settings in each cycle, the SMV40C30GB also comes with a height adjustable upper basket, allowing for increased flexibility when washing bulky items such as large bowls and jugs. Buyers have been thoroughly impressed by how convenient it is to load and unload items from the machine with this feature. It's not just the basket height that you have control over. There's also a handy time delay, allowing you to set your dishwasher to go at a time that suits you.
Thanks to a stainless steel interior, this dishwasher delivers an extra hygienic clean, as well as being sturdier and more durable. On top of this, it offers a handy self cleaning filter system that takes away the hassle of regular emptying.
Last, but not least, the SMV40C30GB includes an AquaStop anti flood device, with a double walled feed hose, mechanical hose valve and visual display. This device is protected by warranty for the duration of the machine's lifespan, protecting it against water damage and ensuring it won't prematurely break down.
Order the Bosch SMV40C30GB Dishwasher online, by phone or in store with South Coast Appliances. We offer collection from store or delivery to any address within Hampshire. Contact us to learn more about this, or any of our other Bosch appliances.