Discover amazing cleaning power with the Serie 4 SMS46IW04G Dishwasher from Bosch. This freestanding 60cm dishwasher holds up to 13 place settings and is available in classic white. Rated A for both washing and drying, you won't find better cleaning performance anywhere else. This product has been awarded Best Buy status by Which?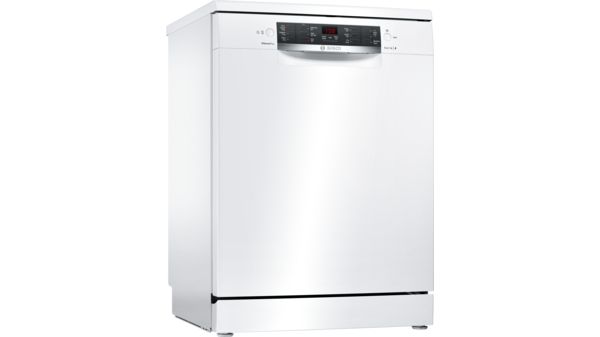 Protection & Performance
Having a dishwasher that protects your dishes and glassware during each wash is key. The SMS46IW04G from Bosch delivers powerful yet gentle cleaning performance. The Glass 40ºC program provides the best settings for keeping your glasses shiny and in great condition, with extra drying time to prevent streaks. Soft water corrosion is what causes glasses to go cloudy in the dishwasher. The SMS46IW04G regulates water hardness to prevent soft water corrosion, ensuring glassware is protected.
Looking for better antibacterial protection for your dishes? The machine's HygienePlus setting delivers a hotter rinse at 70ºC to kill more bacteria. Keeping your dishes extra hygienic.
Thanks to Dosage Assist, your kitchenware will get a thorough clean every time. DosageAssist ensures the dishwasher tab gets fully dissolved in its special basket. For optimal cleaning results. And the machine's AquaSensor ensures no food or detergent residue is left on your dishes. It intelligently monitors dirt levels and adjusts the rinse and water usage for a perfect clean.
And with ExtraDry, you'll never be left with streaky or dripping dishes after your wash. ExtraDry is ideal for those difficult to dry loads. With additional drying time ensuring dishes come out clean and totally dry, ready to be put away.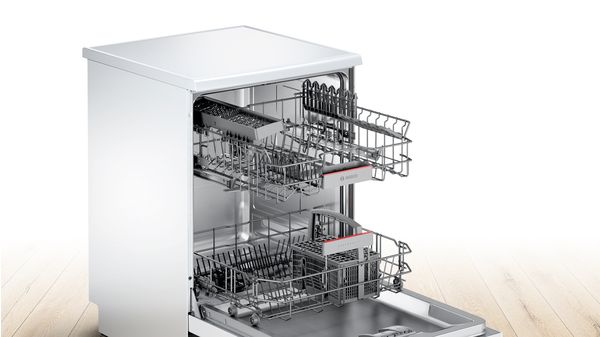 Comfort & Convenience
There's plenty of room inside the SMS46IW04G for loading all your dirty dishes. And with VarioFlex, you can adjust your baskets for additional storage capacity. The SMS46IW04G comes equipped with six handy programs, including Intensive 70ºC, Auto 45-65ºC, Eco 50ºC, Glass 40ºC, Quick Wash 45ºC and Pre-Rinse. So, you can easily choose the right setting for your dishes.
When you have little time to spare, take advantage of the machine's VarioSpeed Plus option. You can reduce your washing cycle by up to 66%. Perfect for when you need clean kitchenware in a hurry. And you can program your dishwasher to run at a time that suits you, with the handy time delay feature. Simply pre select the program you need and choose when you want it to run. The LED display will show the time remaining on your wash cycle.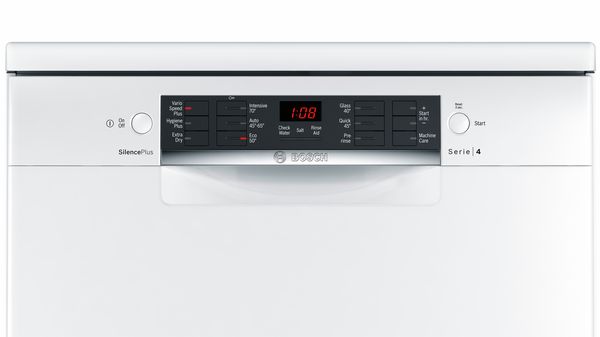 Efficiency & Economy
The SMS46IW04G has an A++ energy efficiency rating, meaning you'll save money on your energy bills. Thanks to Bosch's EcoSilence Drive™ delivering high performance, energy efficient cleaning, you can feel good about using your dishwasher. EcoSilence helps the dishwasher run super quietly, so it won't disturb you if you want to run it overnight. You'll also save water, as ActiveWater technology ensures only the necessary amount of water is used.
Browse a wide range of Bosch dishwashers online or in store at South Coast Appliances. Get a great deal on a brand new dishwasher for your home. We offer delivery and installation throughout Hampshire. Contact a member of our team to find out more.