Prepare delicious family favourites with the HHF113BR0B Oven from Bosch. The single built in multifunction oven looks stylish in stainless steel and slots smoothly into your kitchen unit, either at eye level or under counter. Achieve perfect baking and roasting results when you cook with the electric Serie 2 HHF113BR0B.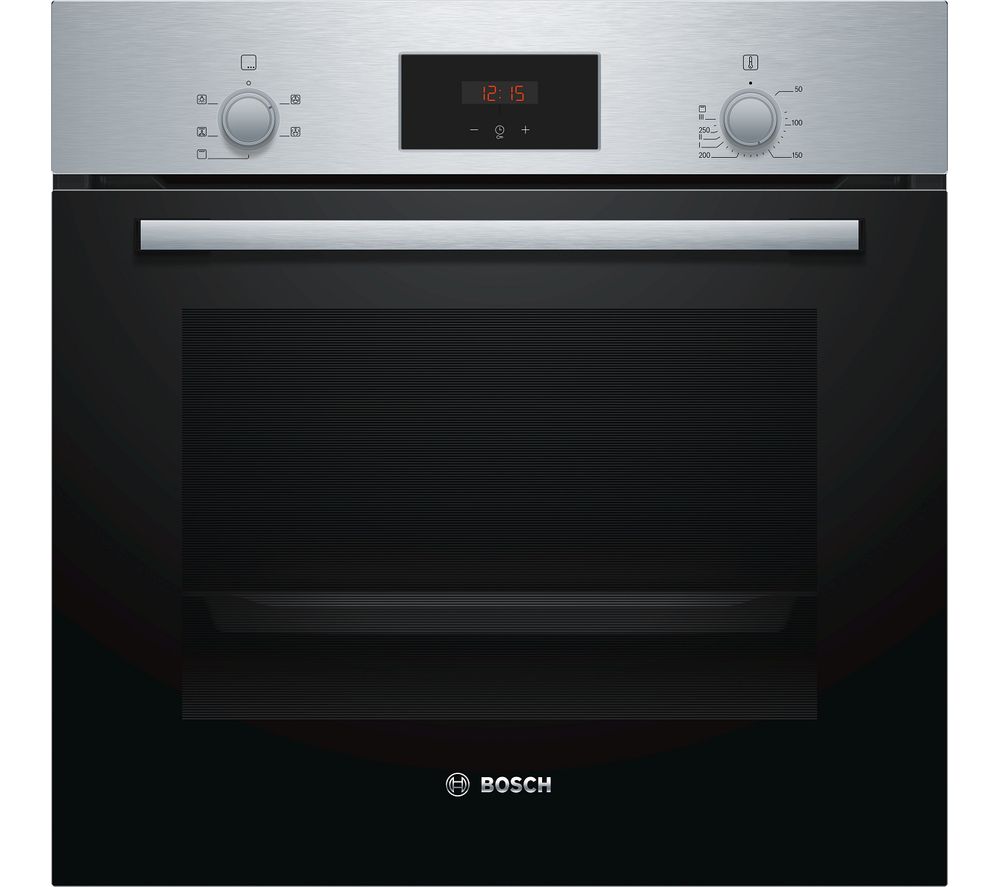 Flexible Cooking for Multiple Meals
The HHF113BR0B comes with four different functions: Hotair grilling, Hotair gentle, Full-width variable grill and the expert 3D Hotair function. 3D Hotair allows for perfectly even heat distribution across all three levels of the oven cavity. The fan at the back of the oven circulates air throughout the space, ensuring food is cooked to perfection, no matter what level it is on. Thanks to 3D Hotair, you can prepare multiple dishes with ease, cooking on all three levels simultaneously. This is ideal for batch cooking or baking. With even heat distribution, you won't need to worry about burnt edges and raw middles. Food is cooked evenly all the way through. Plus, with fan heat distribution, the different flavours in the oven will not mix, so you can prepare sweet and savoury dishes at the same time. For fast and even cooking, 3D Hotair is the perfect solution.
Love barbecue? With a handy integrated grill, you can enjoy healthy grilled or barbecue cuisine all year round when you buy the HHF113BR0B oven.
Handy Integrated Features for Easy Use
The HHF113BR0B comes equipped with several handy features that make people's lives just that bit easier. Features such as the child safety lock, preventing little hands from accidentally turning up the heat or changing program, so you can cook with peace of mind.
Telescopic shelves make for smooth and easy loading and unloading of dishes, an added safety feature to prevent arms getting burned while reaching in to pull out a heavy casserole. The shelves are adjustable, so you can make space for whatever you're cooking, no problem.
Finally, the oven's easy to clean enamel coating makes hours spent on your knees, scrubbing the back of the oven a thing of days past. The coating is designed to resist stubborn food and grease stains. All you need to do to keep it clean is simply wipe clean with a damp cloth.
Buyers Love…
The HHF113BR0B is a popular built in appliance with consumers. People love the fantastic Bosch build quality, excellent value for money and stylish design. Many find it has streamlined their cooking, as it heats up quickly and cooks food evenly, removing the need to move things around. With a spacious 66 litre capacity, you can feed for the whole family with ease. The oven fits seamlessly into the kitchen interior, a modern appliance that looks good and achieves great results.
Another key feature buyers love about the HHF113BR0B is its user friendly design. With two dials and a clear central LED display, it is super easy to get to grips with, so you'll be ready to cook your favourite dishes in no time.
For effortless cooking with excellent results, choose the HHF113BR0B Oven from Bosch. You can get a great deal on all Bosch ovens when you buy with South Coast Appliances. You can collect your brand new oven in store or arrange for one of our team to deliver it straight to your door, anywhere in Hampshire. We can even install it for you. To find out more, get in touch with a member of our team. Contact us by phone, through our website, or by visiting us in store.